Home
›
Products
›
Af-french-grammar-in-44-lessons-and-over-230-activities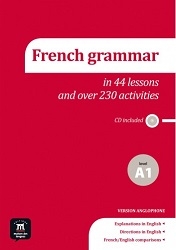 French Grammar in 44 Lessons and over 230 activities
$39.00
AUD


Approx $29.95

USD
Description:
Title: French Grammar in 44 Lessons and over 230 activities (English version)
Level: Textbook for Beginner levels A1
Publisher: Maison des Langues (Oct 2014)
ISBN: 9788416057689

CD included
This is a special edition of the A1 level of La grammaire du français for English-speakers. The section headings, grammar explanations and instructions are all in English, and there are notes contrasting French and English grammar.
The book consists of 11 thematic chapters with more than 230 activities in total. There are 44 lessons in a double page format with a grammatical explanation on the left-hand page and tools for implementing the grammar on the right-hand page. A conjugation table, verbal constructions and the phonetic alphabet can be found at the back of the book. An audio CD is included with the book which includes all of the listening comprehension exercises.