Contrastive Grammar : French Grammar for English speakers
$54.95

AUD
Approx $36.16
USD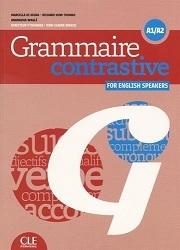 Title: Contrastive Grammar : French Grammar for English speakers
Level: Level A1/A2
Publisher: Clé International (August 2015)
ISBN: 9782090380217
A complete grammar designed for students at level A1 and A2 according to the Common European Framework for Languages.
Written with special emphasis on problems faced by English speakers in French.
Grammar rules are presented simply and in English.
The exercises show the differences and the similarities between French and English.
A wide-ranging selection of activities that are related to English-speaking culture.
Grammar sheets can be studied in the order presented or by using the index to follow the user's own path.
80 thematic grammar sheets ordered by level of difficulty.
Highlights of the Contrastive Grammar:

450 exercises (with answers)
2 evaluation tests
CD with 100 audios passages